Good news: it's cheaper and easier than ever to build a great looking website! Bad news: you no longer have an excuse to have a poor church website.
I consult with several churches on their digital strategy and even included an entire segment on how to create an appealing website in a recent online course the BethanyInfluence team launched. While you may need an entirely new website, I'm going to share 6 small changes you must make to your existing website that will massively improve it (even if you're not starting with the prettiest canvas).
I call these "musts" because, quite simply, you must engage your site visitors effectively in our tech-driven age if you want to convert them (pun intended) into actual church visitors.
1. Real, High-Quality Images of the Weekend Experience
I want you to think of pictures on your website like the windows of the internet. If I don't know anything about your church, I'm not that interested in seeing a big picture of your building plastered on the homepage. And I'm certainly not interested in seeing cheesy stock photos.
Visitors want to see real people right when they land on your homepage. That's the only way they can get a feel for your church's vibe. Hire a local photographer for one weekend service and create a catalog of about 100-150 high quality images you can use on your site and other marketing collateral.
2. Service Time/s and Location on the Homepage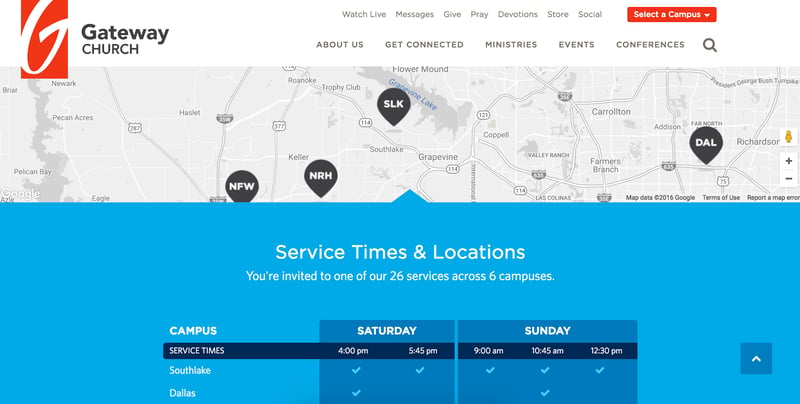 Don't force visitors to go poking around your website just to discover where and when you meet. Those will always be the two primary questions they need to find answers to directly when they scroll the homepage. Including a map is even better than simply listing your address.
Without this key information on your homepage, some may get the feeling that your church isn't that interested in having guests. Even if that's not true, that's the impression someone might get, which would keep them from ever giving your church a try and finding out.
3. Page for Planning a Visit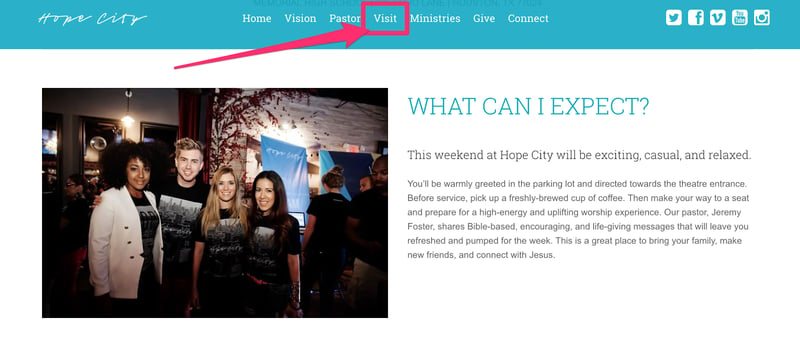 Your website should cater to people who have never been to your church more than it should cater to members. This is a big mistake I see a lot of churches make. Your members are already bought in so they will be much more forgiving and willing to take more time to navigate around.
Visitors are not. They are "church-shopping" and looking to get their questions answered quickly. The more information you can provide ahead of time, the more comfortable they'll be visiting your services. It's important to build a plan-a-visit-type page and link to it directly from the main navigation.
4. A Clear Call-to-Action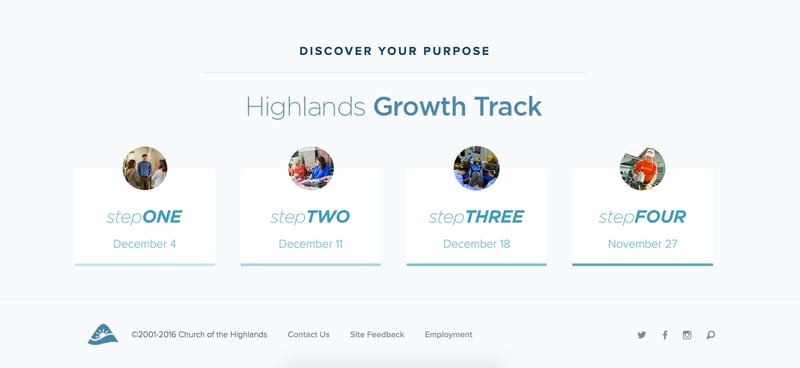 The next time you have lunch with someone that doesn't go to your church, pull up your site and ask them what action they believe the website is asking them to take. You will be very surprised just how easily a visitor can feel lost and confused on your website.
Your website needs to clearly communicate what it is you want the visitor to do next. The marketing industry terminology for this is a "call-to-action." Whether that's signing up for Step 1 of your membership class informational or something else, make it explicitly clear.
Oh yeah, that also means slimming down your cluttered navigation menu to no more than 4-5 main items. Use sub-menus and footer navigation to clean up your site!
5. Mobile-Friendly Design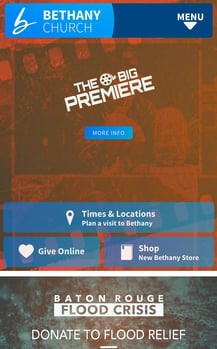 If you follow current trends, you know that more than half of your website traffic is likely coming from mobile devices. That means you lose a lot of credibility if your website doesn't look like it was designed to be viewed from a smartphone. Visitors might begin to wonder, "If their website is behind the times, will their service be outdated, too?"
I'm certain you've heard this before and there isn't much else to say about it other than please use this plea as the kick in the rear you need to finally get this done. This is so important to stay relevant and accessible.
6. Giving Button Clearly in the Navigation Menu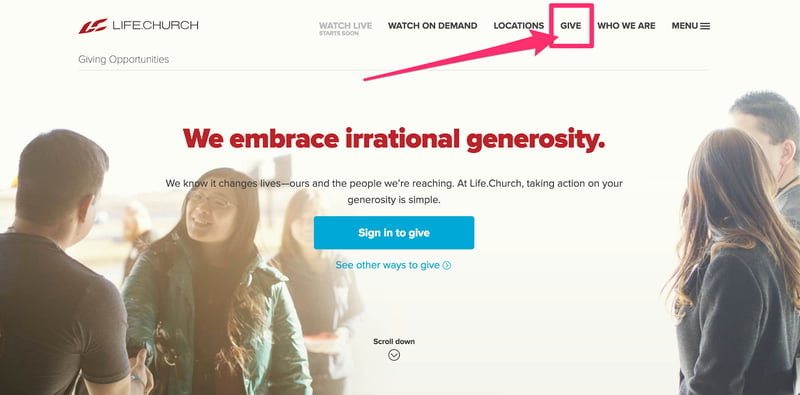 Your online giving link needs to be prominent, not buried. The goal is to eliminate as many clicks as possible to get to the giving portal. With each additional step, the probability of the person completing his gift decreases.
Have you ever downloaded an app to try it out, but gave up because the sign up process involved too many steps and was too complicated? Exactly my point.
If you don't have an online giving platform, you need one ASAP. I recommend Kindrid to the churches I work with— it's flexible, comprehensive, and has competitive rates.
I hope these tips help take your web presence to the next level!