Every 4th Friday in November, our news sources broadcast dire reports of trampling, fighting, and frozen fingers that inevitably color Black Friday. Yet 3 years ago, we started hearing a more hopeful narrative later just a few short days later.
Born on November 27, 2012, #GivingTuesday was welcomed by the United Nations Foundation as an antidote to the conspicuous consumption of its counterparts, Black Friday and Cyber Monday.
The day skyrocketed in popularity and participation, from 2,500 organizations to 27,000 last year. This year, #GivingTuesday lands on December 1st.
Here are some of our favorite tips to get your church community involved in the year's biggest day of giving:
1. Set specific goals
#GivingTuesday is a great time to rally your church and community to meet a pressing need. The best way to do this is to set a specific goal, like "Help us fill 200 shoeboxes for Operation Christmas Child" or "Let's rise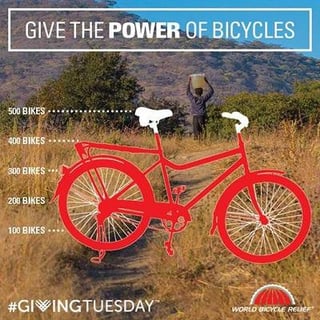 to the challenge: 350 grocery bags with non-perishables for our neighborhood food bank."
Making your goals quantifiable will help increase congregational buy-in and gives you an opportunity to creatively display the results!
We love how World Bicycle Relief showcased donated bikes through #GivingTuesday in this infographic.
They started with a specific goal of raising funds to buy 500 bikes and surpassed it by over 50%!
2. Plan it out
Love the idea of involving your church and community in #GivingTuesday but feeling overwhelmed by all the options? Here's an easy checklist to keep you organized and on track to unleash generosity—it doesn't have to take long!
2-Weeks before #GivingTuesday
Set a concrete giving goal (Tip #1)

Assemble a team and assign roles

Create a calendar with the messages you want to send

Pick the channels you'll use to post your messages (bulletin, email blast, social, etc.)
1-Week before #GivingTuesday
Meet with the team and give them any needed resources (email templates, social posts, etc.)

Send out messages to your church and community each day this week

Make sure you have a dependable digital giving solution and test it (Tip #7)
On #GivingTuesday
Send out your prepared messages

Make up-to-date infographics or images to track your progress throughout the day (Tip #4)

Re-post #unselfies and engage with those who give (Tip #6)

Celebrate generosity!

After #GivingTuesday
Send out thank-you notes (or texts, emails, social posts) to givers

Ask old and new givers if they'd like to set up a scheduled gift

Communicate the results with your church and community

Distribute prizes to the winning team (Tip #3)
3. Create some competition

Let everyone show their competitive side for a good cause by setting up teams that compete to see who can raise the most during #GivingTuesday.
In order for this to be effective, it's helpful to recruit volunteers who want to act as team leaders and rally the troops.
Incentivize competition (and giving) by including a prize! It could be as simple as a $5 Starbucks gift card, a shout-out on Facebook, or some extra t-shirts.
Make sure to communicate the challenge the teams are trying to meet as specifically as possible (See Tip #1), like most dollars raised or most donors engaged.
4. Send updates, often
No matter how your church communicates, whether by email, phone, text, carrier pigeons, or social media, use these channels to send frequent updates on your #GivingTuesday goals and progress.
We recommend one update every 2-3 hours. It's important to keep the momentum going during the day and helps those who have already given see the bigger picture ripple effect of their generosity.
5. Dunk the pastor (or put him/her in jail)
While social media and virtual communication are great tools for #GivingTuesday, everyone gets excited when there's something a little more tangible at stake.
If you have a brave pastor or youth group leader, set a dollar amount that, when reached, will send him or her into the dunk tank (i.e. "If we reach our goal of $____ raised, Pastor Jones will take a dive next Sunday!").
Other similar incentives include jumping into a kiddie pool full of orange Jell-O © or bailing your pastor/youth leader out of a fake jail.
6. Unleash the #unselfie
Does your church have an active youth group and/or young adult group? Then you have a built-in team of iPhone professionals.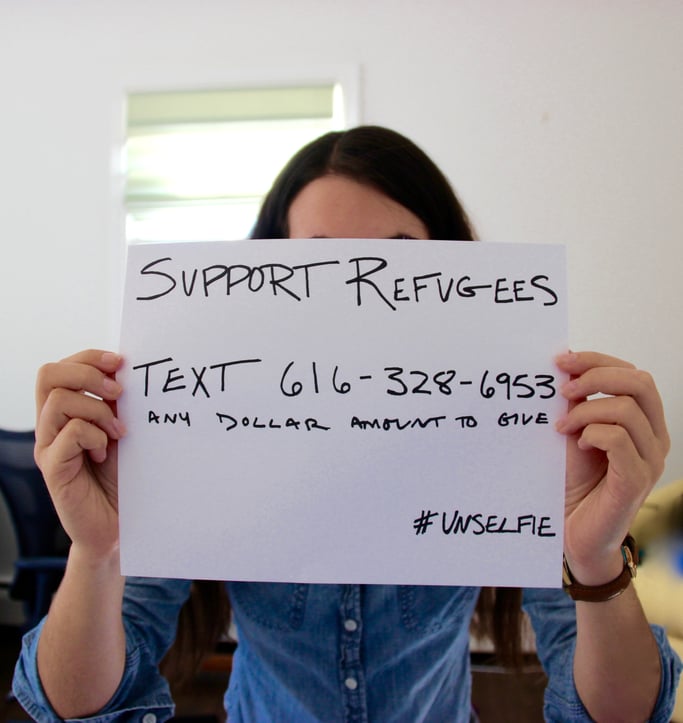 Tap into that talent by asking them to take an #unselfie on #GivingTuesday with information about how your church will unleash generosity this year. Don't forget to include a link or instructions on how to give!
An #unselfie is simply a self-portrait where the subject writes about the cause they support with the hashtag #unselfie on a piece of paper then posts a picture of it on social. Not convinced yet? The hashtag #unselfie was used 39,700 times last #GivingTuesday.
7. Make sure it's easy to give
Even if you design a specific campaign, use competition to increase giving, regularly update your congregation, and capitalize on the #unselfie movement, you won't see the generosity that #GivingTuesday is known to generate if it's hard for people to give.
The last thing anyone will want to do in their post-Thanksgiving coma is click through multiple pages and forms to make their gift. Set up a digital giving solution that allows participants to easily give right from their phones, your church site, or app.
This #GivingTuesday, we hope you're able to activate your church and unleash generosity in unmatched ways!