81% of all Americans are on Facebook. If your church or nonprofit has a Facebook page to connect with your community, adding a Donate button to your page is a great way to encourage giving on a platform that most of us use every day.
Let your community know they can now give to your organization directly by adding the a call to action button on Facebook, creating a custom cover photo that points to the Donate button, or pinning a welcome video that mentions the button to the top of your page.
When you connect the Donate button with Smart Giving, your givers can give with just a few clicks. The simpler the process, the more likely your community is to give. Here's how to get started!
Step 1: Make sure your page's category is set to "Non-Profit Organization." If you need to change your page's category, click "About" on the left side of your page. Then click "Page Info," hover over the "Category" section and hit "Edit." From there, you can select "Non-Profit Organization" from the drop-down menu.
Step 2: Add the "Donate Now" call-to-action button. Start on your page's timeline, click "Create Call to Action" (located on the cover photo), then choose "Donate Now."
**NOTE: If you already have a CTA on your page, you'll want to click "edit" and change the CTA directly. You won't see the instructions described above since you can only have one CTA on your page at any given time.
Step 3: Grab your organization's online Smart Giving URL by navigating to your dashboard and copying your link from the top of the screen. Link the "Donate Now" button to your give.church web page by inserting the URL of your give.church page into the "Website" field before clicking "Save Changes" in the bottom right-hand corner.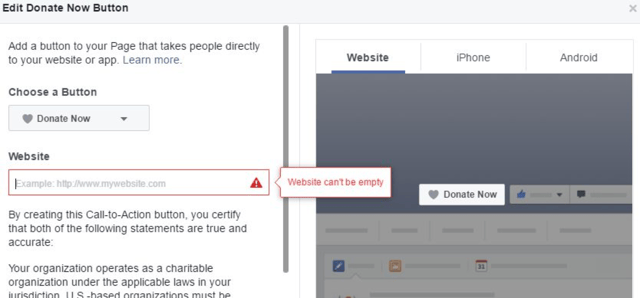 Ta-da! Your Facebook page is now Smart Giving enhanced. Reward yourself by indulging in one of those mesmerizing sped-up cooking videos.