Over the last few months, we watched the Syrian refugee crisis escalate. As the complex war over power and belief strangles their home country, millions continue to flee to neighboring Europe, intent on rebuilding their lives.
Those who make it across the Mediterranean meet new challenges. With insufficient resources and winter quickly approaching, many remain in grave danger.
In the face of these harrowing accounts, one California church rejected indifference and took immediate action.
What happened
Cornerstone Fellowship listened to the compelling narratives World Vision President, Rich Stearns, told of Christian refugee persecution during the closing moments of their Sunday services.
Mr. Stearns showed heart-breaking footage and the congregation felt the weight of responsibility.

Cash and checks began pouring in, but Cornerstone equipped the church to rally together and impact real lives in another surprising way—through text message.
In total, Cornerstone raised $225,000 of aid—$50,000 of which came from Smart Giving—with prayers that it would stem the persecution of Christian brothers and sisters.
How they did it
The church's lead pastor, Steve Madsen, equipped his congregation with Smart Giving to give exactly in the moment that moved them with just a text message. The response was bigger than any of them could have imagined.
Cornerstone didn't hold a special event or spend much time mapping out the details. Part of the leadership team, Chris Stockhaus walked us through what happened:
"We raised this money as part of our weekend services. During the last 10 minutes of his sermon, our lead pastor transitioned into a description of what's happening with Syrian Refugees. We played a video from World Vision that really struck the congregation in the heart. Our pastor issued a call to action and we put up a slide on the screen:
"Text CORNERSTONE to 45888 to give to Syrian refugees."
"We told them, 'Do this right now. Give before the service even finishes.'"
The leadership team left the congregation room, and time to respond. "People, all around the sanctuary, started pulling out their phones and texting their gifts," Chris said, excitement rising in his voice.
Interested in engaging your congregation like Cornerstone?
Meeting them in the urgency
Offering a way for people to give, in service, was critical to Cornerstone's efforts.
Chris explained, "You have people's hearts captured in that moment, but then, four hours later, they may have forgotten or their hearts have moved on to other things. They're not as invested later in the day. They're ready to say 'Yes!' in that moment so how do you capture their energy, how do you capture their desire to give?"
"When we didn't have Smart Giving, we used to say, 'When you get home, go online. When you have your checkbook, write a check. But there was a drop-off in people following through because by the time they got home they forgot."
Where will the funds go?
A portion of the money will go directly to World Vision. The relief organization cares for the outcasts, the Christians refugees who are often rejected from the camps.
It's Cornerstone's desire to steward these resources holistically. They're talking with other ministries in need too, including churches in the very middle of the crisis. "We're working with the UN, as well as specific churches whose buildings are at capacity. They're set up as makeshift refugee camps. And that means they're not getting any resources from government agencies."
Why did Cornerstone get involved?
We asked Chris what motivated the church to respond with such irrational generosity. His answer spoke to the very heart of Cornerstone's commission:
"Raising this money means a lot to us. It helps us follow through on the vision we've been given as a church and what we're supposed to accomplish. This is an opportunity for us to represent what the church is all about, both to the refugees, as well as to our own community. People can look to us as an example of what the church should be."
Chris was clear about the urgency of Cornerstone's involvement, "This is one of the most significant crisis situations we'll have in our generation."
"We need to be a part of it."
Do you want to mobilize your church to respond to the needs of your community and your neighborhood like Cornerstone Fellowship?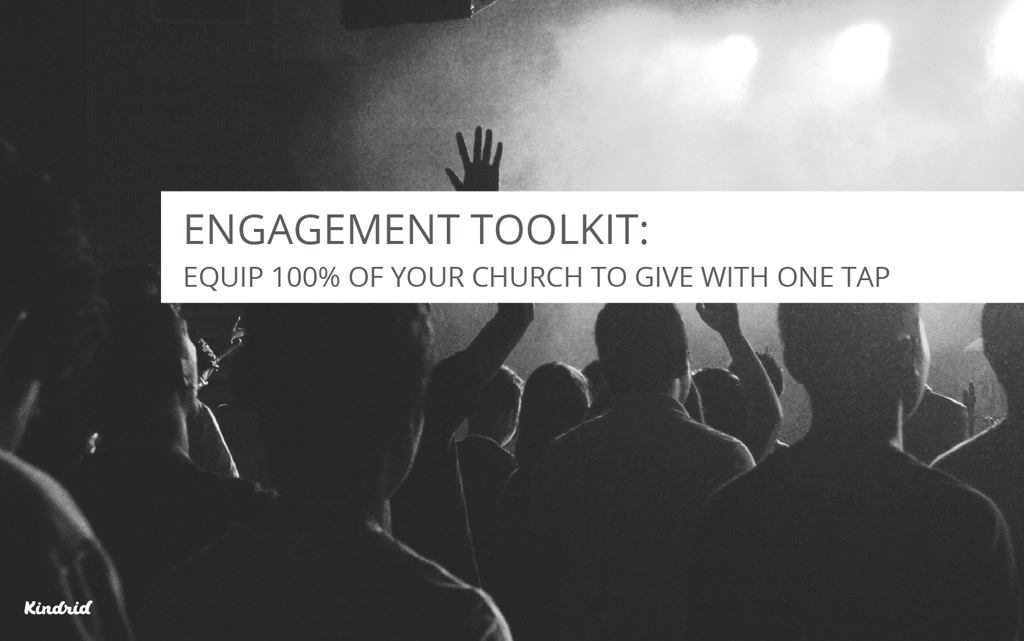 Join us. Check out our Engagement Toolkit: Equip 100% of Your Church to Give with One Tap to get started.