Fostering participation in the worship of giving is crucial for a healthy and flourishing church. There are plenty of studies on what causes church giving to decline, but at Kindrid, we like to focus on highlighting how to improve giving at your church. In turn creating a healthy culture of giving with your congregants through good church fundraising ideas. We're often asked for creative ways churches are using Smart Giving* to effectively increase their giving. Doing this is simple and results in engaging new givers by opening a new avenue of giving rooted in an understanding of generosity.
*Smart Giving enables your givers to not only give with a single text, but also manage payment methods, switch cards, and edit their information straight from their smartphone.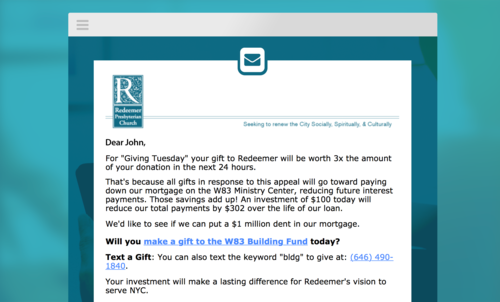 Last week Tim Keller's church, Redeemer Presbyterian in New York City, ran a fundraising campaign on "Giving Tuesday" creatively using Smart Giving and saw some spectacular results with people giving by text. On Tuesday they cast the vision to lay a healthy foundation for future ministry by aggressively paying towards an outstanding mortgage. By sending out an email and outlining the the vision on their website, they were able to integrate Smart Giving as a direct point of action to support their vision, reinforcing the relationship amongst the church body in a simple effective way. They did four exemplary things in conjunction with Smart Giving by text that we are excited to share.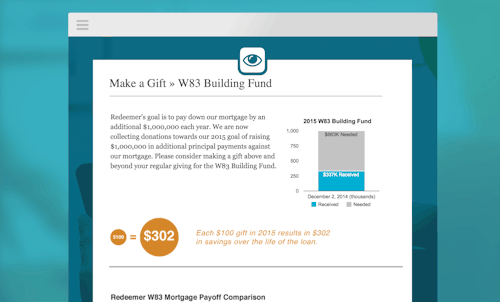 Redeemer used Smart Giving by text to:
1. Support their vision. They had a clear, singular purpose and led with this vision: Aggressively attack a ministry center mortgage by fundraising an extra $1 million annually. For the purpose of laying a healthy foundation for future ministry. They used Smart Giving as the direct action point to support the vision. Each dollar given now would have a 3x impact over the lifetime of the loan.

2. Reinforce the relationship. Giving is a two way street, we are called to give by God, but the church can do wonders by transparently reminding givers of the importance their giving has in the life of the church. Using Smart Giving as the action point can bring back the immediacy of giving as well as translate generosity for a new generation. By embracing the ability to give by text message, Redeemer has opened the door for an entire new body of people to engage with their church that prior to were unable and unlikely to participate in giving. Kindrid has found that around 25% of people using Smart Giving are giving by text to the church for the very first time! Having an immediate action point creates a two way avenue which reinforces the relationship between the giver, the church, and God.

3. Invite church participation. There was a clear call to action. "Will you make a gift to the building fund today?" With a single text people are able to fulfill this call to action and participate in the life of the church. Redeemer saw the opportunity to use Smart Giving to creatively engage people outside of a Sunday. Thus allowing a wider body of people to fill this call to action and participate in the worship of giving in the moment with a text message.

4. Make it simple. Redeemer set up the keyword "BLDG" in order to track and monitor all the giving towards the building fund. All the givers needed to do was text any AMOUNT they wanted to give with the word "BLDG" to Redeemer's Smart Giving number (e.g. $150 bldg). The giver immediately receives a confirmation thanking and confirming the gift went through to the building fund.
By setting up a keyword and integrating Smart Giving into their vision and communications, Redeemer was able to open up a totally new avenue of giving at their church and allow people to immediately respond to their vision.
At Kindrid we believe in generosity, knowing the call from God to live accordingly, and understanding its impact on our lives. That's why we've built a simple system to powerfully equip church leaders to engage new people in the life of giving like never before.