We love seeing how our churches roll out Smart Giving. Highland Park in Lakeland, Florida did an exceptional job introducing their congregation to their new way to give.
One of our biggest goals is to equip you with everything you need to experience the same kind of success at your church. Check out how Highland rolled out Smart Giving, from Sunday morning services to the inbox later in the week.
Before Smart Giving, Highland used online and kiosk giving. But it rarely worked when people were ready to give. Once they found Kindrid Smart Giving, it was just a matter of transitioning their church from their old ways to give to this new approach. Their rollout strategy included:
Sunday morning announcement

How-to Smart Giving walk-through

Follow up email with specific instructions
After that first Sunday, Highland followed up with their congregation in their inboxes.
The results:
Highland Park saw a 10% increase in new givers since they rolled out Smart Giving.
Takeaways:
Tell them why! If you're transitioning to anything new, it's important to clearly explain why you're switching and what makes this new solution better. Communicate what the change will mean for individuals, when it will take place, and exactly what each person needs to do.
Rollout should cover more than a morning: Rollout happened in service on Sunday and was supported by an email for those who needed a reminder or who might not have been present.
Don't just tell, show: Highland supported everything Pastor Craig said with an awesome how-to video.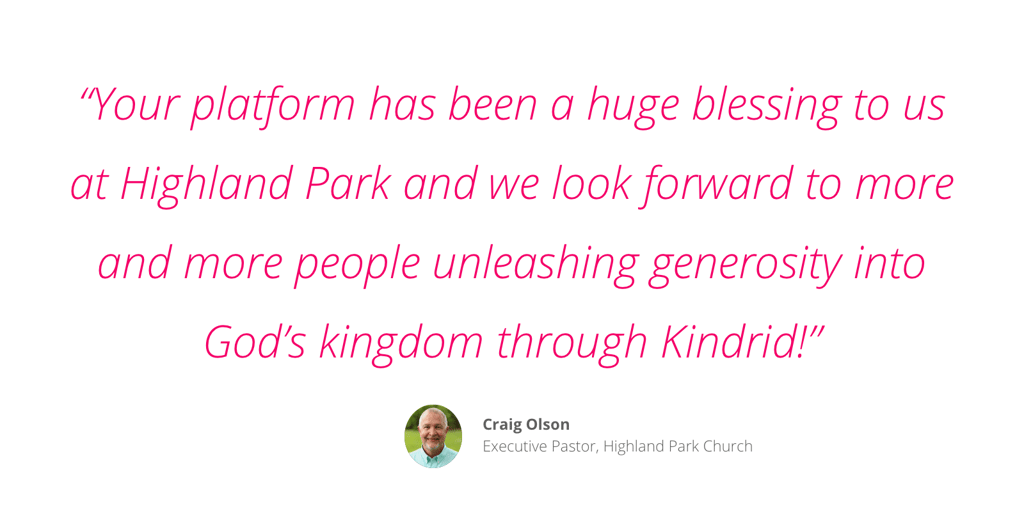 Our goal at Kindrid is to bring new people into a generous relationship with your church. The fact that this year 10% of those who use Smart Giving began that relationship with Highland Park is huge and definitely worth celebrating.
Many different factors influence the impact Smart Giving has at a church, from culture and demographics, to the way you roll out, and even the number of times you remind your congregation to use Smart Giving.
But what we do know is that when your pastor gets behind this new way to give, you dedicate time to trying it with your church, and you consistently talk about it, like Highland Park, Smart Giving can make a big difference in bringing new givers into the mission of your church and increasing total giving.

Want to learn more about Smart Giving? Check out our Smart Giving Overview!