Over the weekend, Seacoast Church rallied together to raise $20,000 through text in under 12 hours for the churches and families affected by the devastating flooding in Louisiana.
We caught up with Glenn Wood, Seacoast's Church Administrator, on Monday, the day after Seacoast raised the gifts.
Seacoast is one of the founding partners of the Association of Related Churches (ARC). Glenn estimates that there are 12-15 churches in the ARC network who have been directly affected by the floods—either their campuses were overtaken or they knew people whose homes were destroyed. As he explained, "This [flooding] is something that's near and dear to Pastor Greg [Surratt]'s heart. We have to do what we can." Glenn went on to describe how Seacoast mobilized so much aid with less than a day's notice.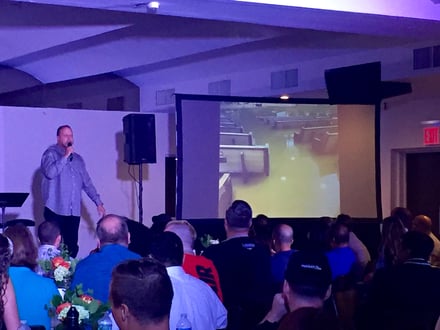 "Pastor Greg sent out a text to me and a couple others on Saturday asking 'Is it possible to use Kindrid to raise some money to help with the flooding tomorrow?' We decided we weren't going to put it up on social media or really promote it. We'd just ask people in the church if they'd give $20 to flood relief. We'd only announce this in services and see what we could raise.
"It was really remarkable because it all happened so quick: we had the idea, we set up Kindrid, and we talked about it for five minutes during services. I ran the numbers this morning and we raised $20,000 from 1,000 $20 gifts.
"It wasn't a focal point of services. Pastor Greg just mentioned it during the opening part of his message—'we're affected by this and have partners affected by it. I want to give everyone the opportunity to help so here's what I'm going to ask you to do.'
"From a set up standpoint, it was so simple. We put a little blurb up on the screen that said 'Text 20 Flood to (843) 410-0739 to donate $20 to the flood relief.'
"People were already set up to give through Kindrid and if they weren't, Pastor Greg said 'Hey, if you've never used Kindrid before, text 20 Flood to this number and you'll get a text back with a link so you can tell us who you are, name, address. Just some basic information. Then you'll be set up in the system and you're good to go.'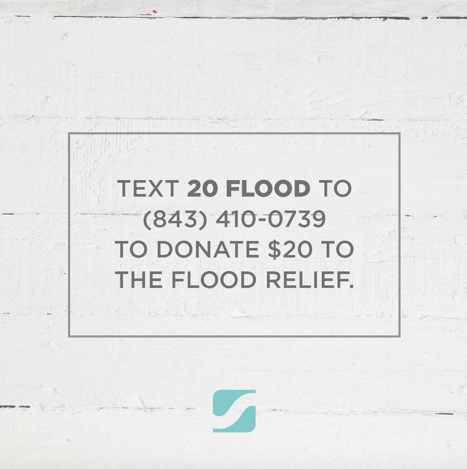 "We've raised money like this in the past, but we've never done it so quickly or seen these type of results. This was just a spontaneous "Let's do this" kind of thing. We knew that everyone could give $20. As we scanned back through the gifts, that's pretty much what happened.
"We were really pleased with the level of engagement we saw—especially with as little publicity as we had. Pastor Greg's sermon was on marriage and had nothing to do with flood relief or giving. It was just a 'Hey, this is what I think we should do. If you want in, here's how. Now let's talk about marriage.'
What can happen when your church catches the vision
This past Sunday, Seacoast, a church of 14k, saw 7% of their congregation engaged through Smart Giving. Of those who gave, 30% were giving for the first time by text. Seacoast embodied generosity, giving, all in all, more than $40,000 to reach their neighbors states away. But that's not the biggest reason to celebrate.
The heart of Seacoast Church is clear. They had a vision to step up as a congregation and be a Christ-like representation of hope to the thousands of people affected by recent flooding. Over 60,000 homes have been damaged, but Seacoast's prayers didn't stop with interlocked hands and bowed heads in a Sunday service. That's where it started (technically it started 12 hours prior on a Saturday afternoon!).
Pragmatically, there's a problem activating support from people who are compelled to help. The easy part is showing a video, getting on stage, and communicating a need. Churches are literally set up to do that at the drop of a hat—the difficult part is answering church members' whispering questions of "Wow, that really sucks, but now what?"
Their hands are outstretched and feel compelled to do something in that moment. What do you do? Ask for the remaining cash out of their pockets? Needs don't simply go away from acting out of convenience or out of our remainder; they're met in a place of proactivity and commitment.
Last Saturday, a Seacoast admin set up the designation "FLOOD" for their 13 campuses in a minute flat. Everyone at Seacoast had the ability to participate in their church's vision of being hope to the flooded cities, instantly.
What will happen when your church catches the vision?