We gave you the rundown on some of the best tech tools for church admins. Now we want to dig in a little deeper and share specific advice and practical takeaways, one tool at a time. First we looked at Instagram. Today we're turning to MailChimp.
Have you ever had a "reply all" nightmare? We've all been there. You hit "reply all" on an email, type up a short (and sometimes sarcastic) reply that you think will only go to one recipient, and BOOM. You've emailed the entire group. Awkward damage control follow-up emails ensue.
If you're trying to foster genuine, two-way relationships with your givers, the last thing you want to do is accidentally reply all about something confidential to everyone in your church or bombard your givers with emails they never open and never will.
That's why we love MailChimp. It may sound like some weird kind of monkey, but MailChimp's actually an email marketing service that organizes, creates, and tracks newsletters, automated messages, and targeted campaigns.
Using MailChimp can enrich your relationship with the givers in your church by delivering those tailored messages to specific groups of givers. You can segment your givers, customize the message to your audience, and reach out to new givers through 3 nifty MailChimp features.
Let's start by creating an account. You don't have to pay a thing if you have fewer than 2,000 email addresses in the system! You can send up to 12,000 emails/mo absolutely free. And even if you do need more capacity, MailChimp is still church budget friendly.
You can export email addresses from a .csv file and organize them into different lists. You can set where you want replies to land (probably you or someone on your comm team if you have one), and the recipients of your email won't be able to see who else appeared on the list or accidentally "reply all."
Additionally, if someone no longer wants to receive emails from you, they can unsubscribe and MailChimp will automatically remove them from your list. MailChimp will also notify you of anyone who unsubscribed, should you want to do more in-person follow-up.

After sending a campaign, you'll be able to see who opened your email, clicked on any online giving links or wanted to learn more about a particular ministry, or if any bounced.
Insider Tip: Take some time to look at the MailChimp dashboard after sending an email to help you determine when's the best time to email your givers, what kind of content resonates with them, and if you need to update any addresses.
Once you've done the groundwork above, use these 3 MailChimp features to foster genuine relationships with your givers:
1. Create groups of givers for impactful updates
Givers crave connection with the ministries they've given to and sending regular updates creates that two-way conversation. Text and online giving options like Smart Giving allow givers to easily designate where they want their gift to go through a keyword such as "Missions." You can take that list of givers and simply copy and paste the email addresses into MailChimp to create a specific group just for those who donated to missions.

Insider Tip: Really leverage this segmenting feature by sending regular updates to different groups of givers based on their gift designation. If you have a blog set up (like one following a specific missionary family your church supports), you can send automatic updates each time a new post is published to those who gave to that ministry!
Some churches may want to group their givers by amount given. This allows you to send different impact stories to different groups and show how every gift makes a difference.
2. Design email templates for different groups to tailor your message
One of MailChimp's best features is templates. You can design beautiful, image rich templates without losing your formatting when you send the email. If you have a younger group of givers or a group that already gave to a very specific ministry, for instance, they might appreciate more photos and quick, easy to scan bullet points in their updates.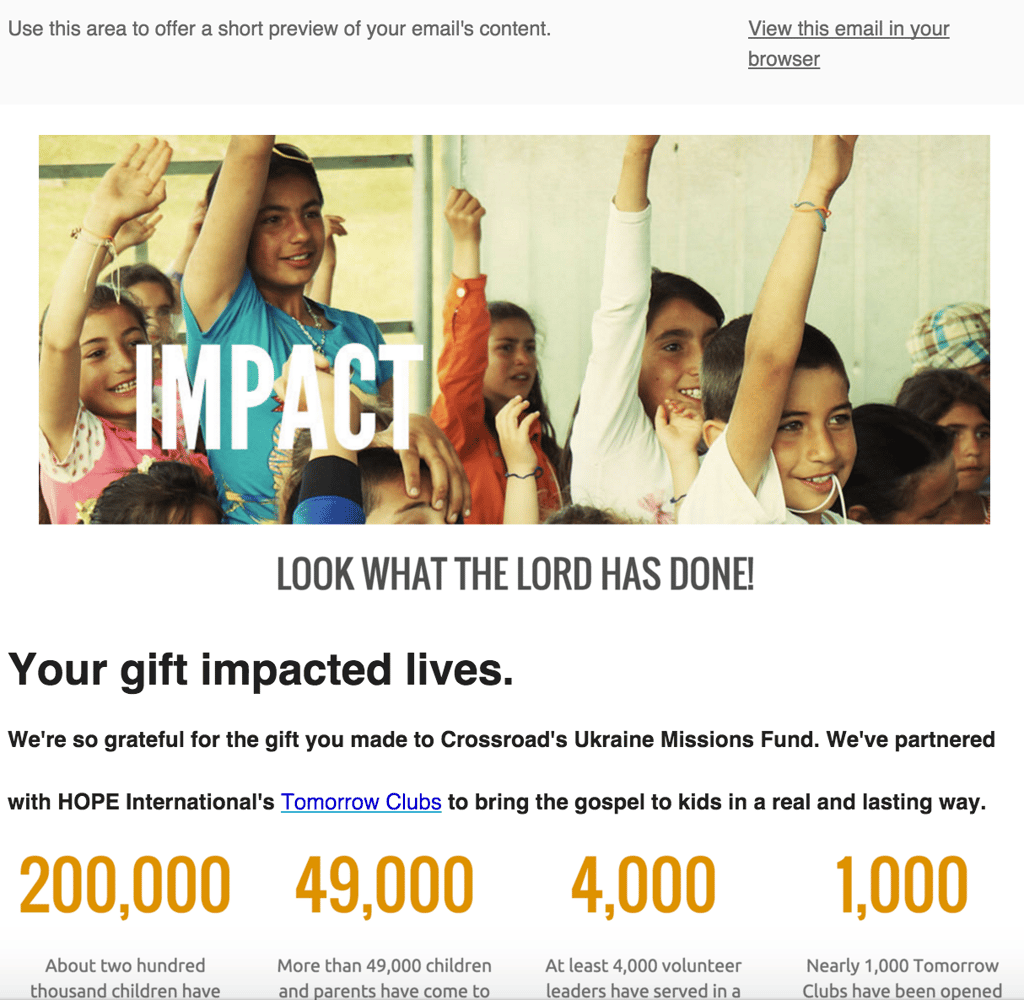 Donors that give substantial amounts to larger projects might be more interested in the budget breakdown or progress charts. MailChimp lets you tailor your message to any group you choose through customizable drag-and-drop templates. Better yet, there's no need to reinvent the wheel. You can save and copy those templates for your next email!
3. Reach out to new givers
You've set up a master list of givers, put them in easily accessible groups, and started sending out tailored emails (called "campaigns" in MailChimp). You're awesome!
But let's say you just clicked "Send" on one of those gorgeous giver-centric emails when you look through your digital giving dashboard, realizing someone just gave for the first time and wasn't included in your email! How do you send them a special thank-you note while still adding them to the master list of givers for future updates?
Use MailChimp's Segments feature! After you add a new contact to your giver list, you can instruct MailChimp to create a temporary segment of all the new givers by grabbing the email addresses you added since the last time you sent out an email. This way, you're able to send new donors a more specific message to thank them for their generosity and explain the ways they can continue giving through text or online options.
It also offers you a chance to ask givers more about themselves and discover where their passions lie in case they would like to make designated gifts in the future. (And if they do, don't forget to add them to the group you created for that designation!)
Insider Tip: Givers and other interested people can add themselves to your groups through a web form! MailChimp guides you through the process of creating an online form that you can easily insert into your current website (just copy and paste, no coding required!). You could add a form, for example, that lets givers enter their contact information for updates about a certain ministry on that ministry's webpage.
MailChimp equips you to move from mass emails to massively impactful emails through their group, template customization, and segmenting options. Emails can be a powerful tool to impact relationships with your givers. MailChimp helps you make sure that your email communication is a positive and transformative influence, not a "reply all" disaster.