Dr. Karl Eastlack of Penn-Jersey District of the Wesleyan Church in Allentown, PA spotlights his approach to giving and what their churches learned along the way.
The Rundown
Name + role: Dr. Karl Eastlack, District Superintendent
Church: Penn-Jersey District of the Wesleyan Church
Location: Based in Allentown, PA, the district encompasses Wesleyan churches in PA, NJ, and metro NY.
Congregation size: 71 churches

Watch or read Dr. Karl's responses!
What's your giving philosophy?
When you're becoming a pastor, you're considering how to disciple people in the walk of faith. Perhaps the most difficult place for people to engage with Christ is not with our language or bad habits, but in the area of their money and the spirit of generosity in their lives.
Money is the last bastion that falls in most disciples' walk with Christ. Once that falls, it opens a whole new door of freedom in people's lives.
What's the most important thing for givers to understand about their giving?
Giving isn't about dollar amount. It's something you say to God in your heart.
First, it's about worship.
Second, it's about obedience.
Third, it's about trust.
Giving is an act of worship.
When I put my offering in on Sunday morning, I close my eyes and say, 'Lord, I worship you.'
Giving is an act of obedience.
At some point I have to say, 'Lord, even though I don't understand it, although I don't even agree with it, because you say so, I'll do it.'
Giving is about trust.
What I think He's trying to build in me is a spirit of trust that says, 'If I honor Him with my tithes and offerings and my generosity, I'm saying that I'm going to trust him with the rest of it.'
That's very hard to do. It's hard for anybody, but especially for people like me who are control freaks. I want to know outcomes before I step into something. I don't like surprises.
For some reason, He made our money as one of the great tests of our ability to, like the old hymn says, 'trust and obey.'
It's about worship, obedience, and it's about actually saying Lord, I trust you. So when I give, I'm worshipping him and I'm saying I'm going to trust you with my life and all the things that I have that you've given me to steward.
How do you teach about giving?
In my counseling with people, one of the first questions I ask is, 'What are your giving habits to God and His work?'
When someone is hungry for more of God and more of God's activity in their life, I ask them about their giving habits. Even when the conversation has nothing to do with finances, I direct the conversation to spiritual disciplines and giving. (Do you spend any quiet time with Christ each day? What are your giving habits? How you think about giving?)
That spiritual discipline "audit" measures commitment to trusting and growing with God. Are we all in?
As long as we hold back, it seems like everything around us is holding back. We wonder why things aren't working out, when God is looking to us to make some guesture—some movement that says, 'I'm going to trust you, God.'
That's why putting a check in the offering plate, or using a smart phones, or whatever we can do to transfer money over to God's work, is really saying something to God. It's saying, 'I'm going to step out. I don't really understand how this works, but you told me in the Bible to go ahead and test you on this one and see if you're telling the truth about how you care for your people.'
How do you recommend your pastors teach about giving, then move people to action?
I tell my pastors, a few things:
Don't rush through the offering time

like the 7th inning stretch.

Don't ask for money; ask for a heart.
Make it easier for your people to give obediently.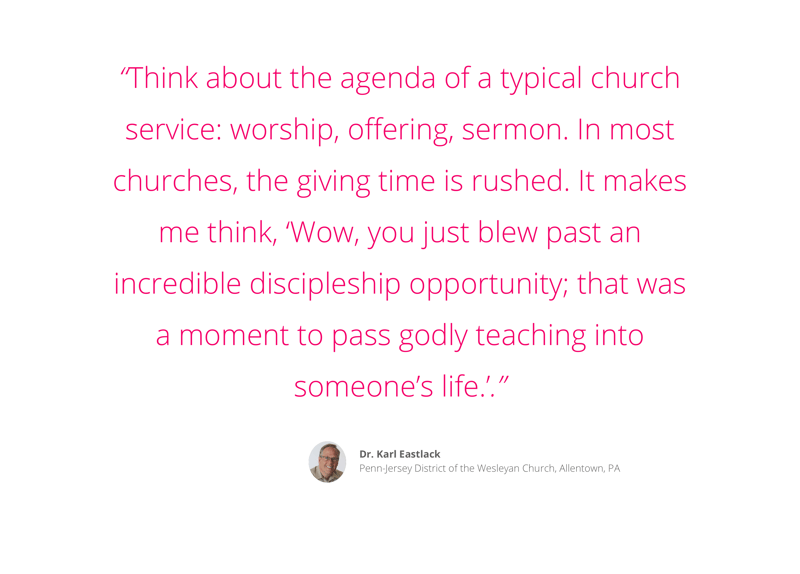 1. Don't rush through offering. The offering is a deeply moving moment of teaching and discipleship with your people.
Think about the agenda of a typical church service: worship, offering, sermon. In most churches, the giving time is rushed. It makes me think, 'Wow, you just blew past an incredibly discipling moment—that was a moment to pass godly teaching into someone's life.'
2. Don't ask for money; ask for a heart. The offering is an opportunity to adjust your heart's posture before God.
Churches rush through the offering as if they feel bad. A lot of people feel bad asking for money. I used to hate preaching on giving; it felt like begging. Collecting an offering is not just asking for money—it's asking for a heart.
Money is the symptom of a deeper condition. Giving is the product of a trusting heart; it's about what's expected in the relationship between the disciple and Christ.
3. Make giving simple. Reduce the stress of obedience.
Obedience is hard, and giving is an issue of obedience. If I have any excuse, Oh, I forgot my checkbook. Oh, they don't take credit cards. Oh, I don't have cash (my 3 kids and their generation never have cash on them)—I'll avoid obedience.
We need tools to help reduce the stress of obeying Christ.
That's what attracted me to Kindrid and what you all are doing. Coming to church is already hard, and then giving! Kindrid Smart Giving reduces the stress of giving. It gives people an immediate way to obey when they feel the Spirit telling them to worship through giving.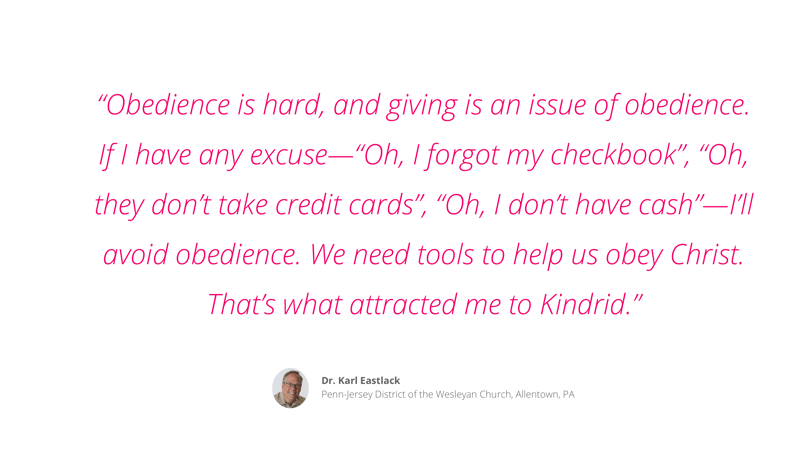 Are we all in?
When Jesus washed Peter's feet in John 13, Peter tries to stop Jesus. He's thinking: This does not compute to me. My world tells me that the lesser washes the feet of the greater. Employee takes care of the boss. The Messiah should not wash my feet.
Jesus' reply? Peter, if you don't let me do this, you're going to have no part in my Kingdom.
I love Peter's response. He says, 'Okay, then not just my feet, but my head and my hands too!'
It's crazy to think of it this way, but the act of worship with my money is a way of saying to God I'm all in. I'm going to trust you with even the most basic thing in my life. And then God opens all kinds of wonderful doors of interaction with him—growth, maturity—over that one little thing.
That's how important I think giving is to God.
Stewardship
… for everything, whether it's your health or anything else, all you've been asked by God is to steward His gift in your life. It is not yours. I don't own it.
I think that's what Christ meant when he said If you want to be my follower, take up your cross and follow me. And I think that's part of what that means to die every day. Paul said that, 'I die daily.' And I think that's what he's trying to get at, what we all have to wrestle with...that I am not my own, I've been bought with a price, it's no longer I who live but Christ who lives in me.
When you start actually acting that way in the things you buy, in the things you do and see and let your ears hear, you realize you're stewarding something of God. You don't just have the authority and the right to do anything—you want to live within the context of what God's doing in your life.
We're grateful for our time with Dr. Karl! If you like what you read, check out our conversations with other pastors during Inside the Offering!