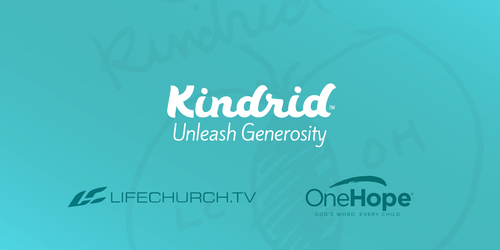 We're honored to announce, LifeChurch.tv is coming alongside OneHope as a founding partner of the all new Kindrid!
LifeChurch.tv is one of the most innovative Churches in the country, known for YouVersion, The Bible App for Kids, and many other tools. Like OneHope and Kindrid, LifeChurch.tv has service to the local church in their DNA.
LifeChurch.tv also pioneered the Smart Giving technology Kindrid offers. Seeing the impact Smart Giving made on generosity at LifeChurch.tv led them to seek ways to offer it to more churches. With this goal, LifeChurch.tv is coming behind Kindrid to grow, improve, and scale Smart Giving to serve more churches in unleashing generosity.
One immediate benefit this provides is lower merchant processing costs. Effective 08/27/2014, the merchant processing fee on all gifts will go from 2.9% + .30 down to 2.5% + .30.
This also means LifeChurch.tv will be contributing their technical experience and expertise to the growth of the Kindrid platform. The impact of these benefits are less immediate but will be substantial over the coming years.
We've launched a new website today with more information about our partnership. We truly believe this relationship will enable us to serve churches even better.
Below we have listed a few FAQs and details about this new partnership, if you have more questions, feel free to reach out to us at sayhello@kindrid.com
Does this mean LifeChurch.tv is taking over Kindrid?
No. The whole Kindrid team is remaining in place (and growing). Kindrid will not become a part of LifeChurch.tv. LifeChurch.tv will be providing advisory, sharing knowledge from their organization, and promoting Kindrid through their networks.
Why does the Smart Giving service cost money?
As you know, LifeChurch.tv has a reputation for giving things away. Being formed out the innovation department at OneHope, Kindrid also the culture of mission above profits. This is institutionalized in how we've structured Kindrid to put any proceeds back into ministry.
With this specific product, there are certain unavoidable fees (merchant fees, hosting fees, continued software improvements, etc.). Our goal is to maintain Kindrid as the best possible solution for churches and also a sustainable partner you can count on.
With this logic and heart, we've developed a pricing model to maximize accessibility. We've also developed a model that allows all churches to benefit from Kindrid's continued growth, as illustrated by our pricing reduction today.
Kindrid already serves many of smallest and largest churches in the country. As we move forward, we'll be continuing to optimize to make Kindrid accessible to all churches.
What is Smart Giving and how is it different from text-to-give?
Smart Giving includes the simplest way to receive gifts via text message but is much more. Smart Giving encapsulates an approach to giving built around generosity.
The Smart Giving system includes all the materials you need to rollout to your church, robust account management for givers, integrations into church management systems and much more coming!
If I have a question, who do I contact?
The Kindrid team will continue to handle all your questions. Please feel free to reach us at support@kindrid.com