Names: James Kruse and Jared Hogue
Roles: Lead pastor, launch team
Church: Adore Church
Location: Arlington, Massachusetts
Launch Date: Fall 2016

What's your story?
JAMES: I grew up outside of Boston and played sports pretty competitively. I ended up going to Oral Roberts in Tulsa for basketball. That's where I met my wife. When we graduated, we decided to stay in Tulsa—it's a beautiful little place—and eventually I started working at Church on the Move, running their student ministry. I was there for 17 years.
Why Boston?
JAMES: About a year and a half ago, we knew something was changing at Church on the Move and it was time for our next step. As soon as that happened, we prayed. We felt like God put it on our hearts to come back to Boston and start a church. It scared the crap out of us.
How'd you even start?
JAMES: That's exactly what we were trying to figure out...how do you possibly start a church?! We partnered with an organization called ARC. We met them and had a relationship with them, so we decided that if we were going to do it, we were going to do it through ARC.
I called a friend of mine, Dave Sumrall of itown Church, and said, "Hey, I'm thinking about planting in Boston...tell me I'm stupid." He didn't. Instead, he said, "Why don't you move to Indianapolis with your family for a time? Come be a part of the church. Then, we'll help you plant your church." So a year ago, in July, we moved to Indianapolis and spent 8 months at itown—learning the systems, learning how to do church the way they do it. And in April, we moved here.
How did the transition go?
JAMES: We drove cross-country to Boston. We spent 5 weeks living in hotels, looking for a place to live. It was hell in a lot of ways. We have 4 kids. 12, 10, 8, and 3. 3 boys and a little girl. Picture that: 5 weeks, living out of suitcases, in a hotel with 4 kids. It was a test. It was a true test whether we were actually going to do it.
Were you ever tempted to quit?
JAMES: One night, when we were in the hotel, I was just done. I told God I was angry with Him. "I'm not doing it," and I went to sleep. I slept really well, actually, because I just said, "I'm not cut out for this." Then, as soon as I woke up the next morning, God hit me with a Scripture. So I said, "Fine, I'll keep going."
Miraculously, we got a house that day. God opened specific doors to do what He's told us to do. Then, in September, we got our venue.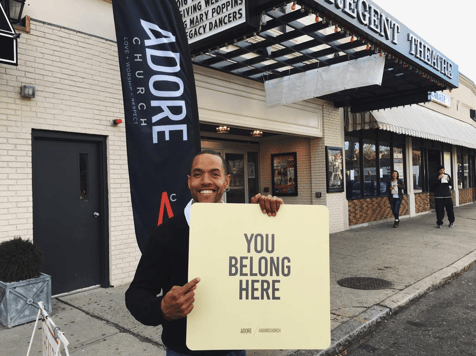 For us, everything's been at the last minute, completely at the last minute. You know how people say God's never early? He's always on time? It's so true. I would even say He's late sometimes. In my mind, He's late; In His mind, He's not.
It's like Abraham and Isaac. There are so many times in our walk that we're asked to put Isaac on the altar and are about to hit him with the knife...we're right there, knife raised...then God comes and says, "Here's the goat."
When I stand up in front of my church, like last weekend when we launched, I look out there and think, "I had nothing to do with this." There's nothing I could've ever done that would've gotten us to this point or been able to produce what was produced. That's the ultimate, humbling part of planting a church.
What did fundraising look like for you?
JAMES: itown paid my salary up until launch day. Then, Church on the Move pledged to support us once we launched for a certain amount each month.
Other than that, we did grassroots fundraising. I called up people and sent them letters, told them what we were doing, and how we were doing it. The funny thing is that we made a list of about 30 people who we thought would give, and none of those people gave.
It's the people you didn't expect, or didn't count on, who give.
My advice? Know who the big donors are, and don't approach them until you have specific things in mind towards the end of the line. There were a couple business guys that I saved in my back pocket. When we needed a trailer and a car to tow the trailer, I specifically went after them and said, "I need $5,000 to buy this trailer for the church." People like it if there's a bullseye they can hit. 2 guys gave $5,000 checks. We bought the trailer and put the other $5,000 towards the car. I sent them pictures and now those guys will always think, "I paid for that trailer." People need to know where their money goes.
Asking for money
—
especially big donations
—
can be intimidating. How did you approach it?
JAMES: Often, you got one shot. The first couple of people I approached, I had this really cool pitch, and halfway through the pitch I was like, "This sucks, I apologize." And then I just talked to them passionately about what I wanted. That's what wins—passion.
Sometimes we get a little bit too finessed in stuff. You do need to be prepared. You need to have your ducks in a row and put some thought into how you're going to pitch. But at the end of the day, you've got to lean on passion more than anything. Someone else, even if they're close to it, can't sell the church as much as I can sell the church. It's on me in the sense that God gave me the vision to do it. It's easy to think, "Oh, you know that guy? Why don't you text him since you know him better than me." It never works when we try to go through a different channel. It always falls on deaf ears. You can't get to launch Sunday without passion and you—the planter—need to show people your passion for the Church.
What were your financial goals?
JAMES: Our goal was to have enough to pay for our launch and cover all expenses until February, so the first 4 months of the church. We wanted to start our church from a point of not needing money, of not being like, "Guys, we've got 4 weeks or we are closing the doors."
We cut back on some things we wanted to do and we're insane about every penny. But we did it. We're covered until February 21st, 2017.
It's the long term game of not pressuring people to give. Offer them opportunities to fall in love with the church. And when they do, they'll give. At least, that's our game plan.
At the end of the day, really, it's up to God. We just have to do what we can and trust God that the money will come in.
What's your giving philosophy?
JAMES: People want to give. They just need a cause. And their cause is almost never the Church. They'll never give to a church because they don't think that's a cause. But if I could convince them that the cause of the Church will be a better way of making an impact, they'll give. If I say, "Look, I got this lady, Barbara. She needs a house. We want to buy her a house," people will give to buy her a house, any day of the week. If I can get them to understand that, see that, then I can start getting them to give to the church once they know the church will go do those things.
People want accountability. As long as the church is open and honest about money, they'll give.
Are there specific challenges associated with starting a church in the Northeast?
JAMES: I think this culture is much more "see it to believe it," whereas southern culture is, "I have an idea of church...yeah, I'll come to an interest meeting about a church." People here are like, "No way. I'm cool. Don't need that."
It's nearly impossible to get somebody to check something out that they don't understand.
Sounds like a tough crowd. How'd you reach the community?
JAMES: We found that the best thing we can do is outreaches. Tell people you love them, get into their hearts. Show them we care by giving them something palpable.
What do outreach efforts look like for you?
JARED: They've been pretty nontraditional. Things as simple as handing out subway cards. Paying for people's parking. It's such a simple outreach. Going with rolls of quarters and saying, "Hey, we're going to cover your parking." At least one person wears a t-shirt, but most of us will be in street clothes so we don't look like an overwhelming army. We have little business cards that just say "Adore Church" with our service time, date, email, phone number, and Facebook. It's really non-threatening.
At first, people are pretty taken aback by it. But that kind of stuff, like paying 10 bucks for a dozen donuts or paying for their parking or 5 bucks to ride the subway, it often gets overlooked. It doesn't have to be something grand. It's just going out and meeting people where they are.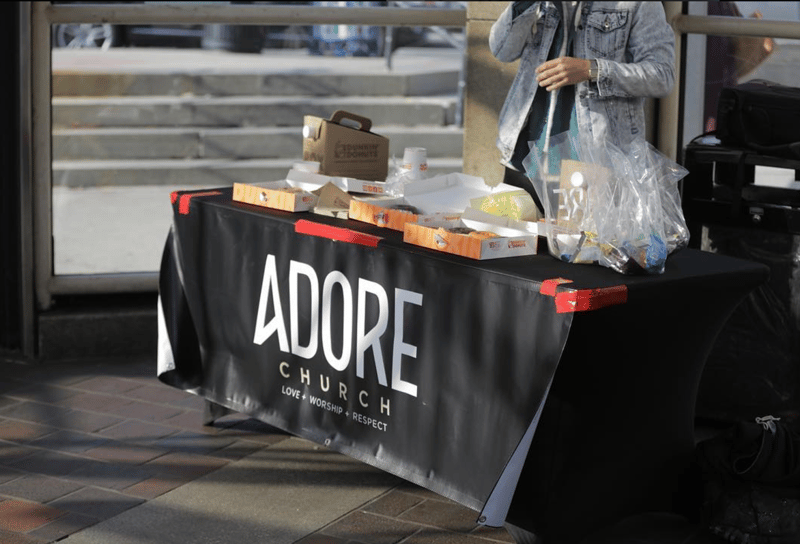 Too many people do this for the end game. Jesus didn't do that. He just loved people.
The Church needs to start loving people. Not with the intent of "Now, you have to come through my doors and get saved and do this and that and the other thing," but simply wanting to show them Jesus.
What advice do you have for church planters?
JAMES: Whatever organization church planters go through (and ARC is a great one), honor what they tell you to do. It's really easy to get into these positions where you think you know better than somebody else, but it's not going to hurt you to do what they tell you to do. There's always going to be things you can add, ways to make it your own, but God honors those who honor. Period. And even if it costs you some extra money, even if it costs you some time, if you honor the sending organization, I truly believe God will honor you.
How can we be praying for you?
JAMES: Pray for moments for our team and for the ability to recognize a moment. There are times when people are open to a conversation and when they are, with the door cracked, we go in with a strong, "Hey, why don't you come check us out this Sunday?" But if that moment doesn't present itself, we don't force it. If you force the moment, it'll go downhill really fast.
We'll do our due diligence to get in front of people. We just need prayer that we recognize those moments and that they come strong, that they come fast, and that they come consistently. Every moment is a story, and every story is a legacy of a family that's waiting to be written.
Check them out!