King's Church in Cleveland, Ohio, officially launched in September 2016. Only 8 months before, in February, Noah and Steph Nickel made the commitment to launch in the fall. Over the next few months, King's Church materialized, growing from idea to reality.
The Nickels saw God bring the pieces together: They joined the ARC Network. 75 people committed to their launch team. They received funding not only for a successful launch, but a full year of salaries for Noah and his wife, a practice their sending church keeps to bless their plants.

Name: Noah Nickel
Role: Lead Pastor
Church: King's Church
Location: Cleveland, Ohio
Launch Date: September 25, 2016
What's your story?
Here's the nutshell: Grew up in Wisconsin, was on-and-off with church, and was kind of doing my own thing. After getting my life right with God, went to Bible school in Oklahoma, met my wife, Steph, and we moved back to her home in Ohio, where her mom and dad pastor a church.
We've been on staff at my in-laws' church for the past 12 years. By all accounts, it's a really successful church—large, healthy, has money, has an amazing facility…in the natural, it made sense for us to serve there and eventually move up to leadership.
In the back of our minds, though, we just had this sense that we'd be leading something from ground-level up.
Over the past several years, we've been feeling that we're supposed to plant a church in Cleveland. It was only February of this year that we decided to launch, so we've had a crazy timeline.
Tell us more about this crazy timeline!
At the beginning of 2016, we thought we'd launch sometime in 2017—maybe Easter or after the New Year.
In February, I got dinner with a friend of mine who'd recently planted a church. We were talking about timing; he asked me when we planned to launch. I don't know maybe Easter? Who knows. Maybe the New Year?
He was like Yeah man, but we live in Ohio. We could have a blizzard any of those days. You should launch in September. Next September. September 2017.
And I was like, Bro, we're launching September 2016.
So, I went home and told my wife that I felt like we were supposed to launch in September 2016. We prayed about it, prayed with my wife's parents (our pastors) about it, went to an ARC training a couple days later, and we came back like, "Yeah, let's do it. Let's make it happen. September of this year."
Where did you even start?
I've had it told to me and I would tell anybody this: The idea of starting a church is cool. It's that big dream. And then it hits you and you're like, Okay, how the heck do I do this?
For us, our biggest thing was ARC. They have 2-day trainings where they lay out the practical steps: where to start, all the details. For us, it was a God-send.
At the time, we weren't planning on being an ARC church, but people told us to go and get all the wisdom they have, and they really laid it out for us.
Came back home, prayed about it, talked about it, and we were like, Why wouldn't we just plant with ARC? The way ARC approaches church-planting really resonated with us.
We were pretty late in the game, but we snuck in our application, they let us in the interview process, and we got approved!
We haven't gotten to attend an ARC training (yet)... What are some of the things you learned?
ARC's launch philosophy is to launch big—to launch as big as you can in a sustainable, church-backed way.
ARC equips you with some good benchmarks:
Suggested minimum of 35 adults on your launch team

Projected budget

Funding assistance (i.e.Interest-free loan—
raise a certain amount of your own funding, they'll match it, then you'll pay it back over time)
We got an ARC coach,a guy who started a church 6 years ago. I'd just call him with questions, like, How do you do this? What about this?
How'd you tackle fundraising?
Our home church, Faith Family, has been huge. The church itself supports us, as well as people at the church.
Since our home church uses Kindrid Smart Giving, it's incredible how easy it's been for people to give to King's Church.
Before King's Church partnered with Kindrid, givers would text our home church's Smart Giving number with keyword KINGSCHURCH.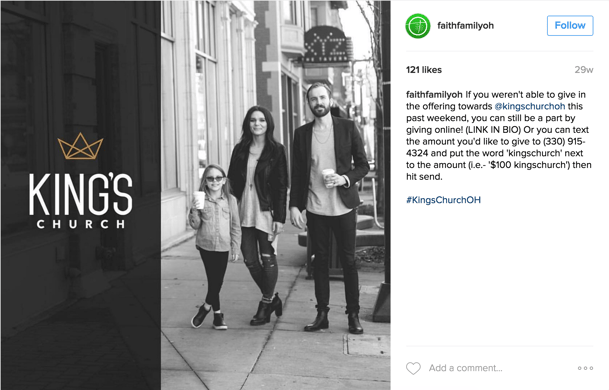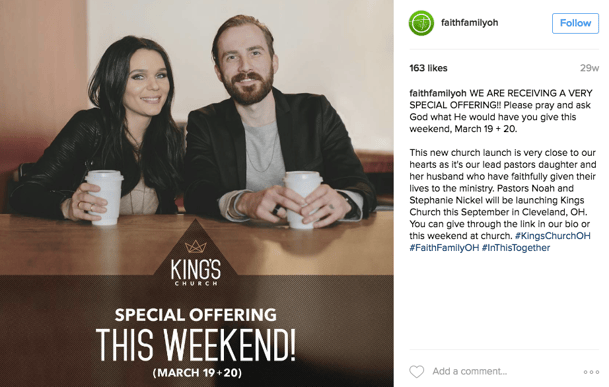 Once we signed up for our own Kindrid account, givers could text their gifts directly to us. Since they were already Smart Givers, they didn't have to re-register or anything. It was insanely easy for them.
Pre-launch, when we sent out support letters, we had a section about financial support. You can give online, on our website, or you can text-to-give.
Over just the past couple months, $45-50k has come in just through our Kindrid account.
Going forward, what do you think is the most important thing for engaging the King's Church family as they give?
Accessibility and ease of giving experience is super important. Everything is mobile now. Making giving easy and accessible has been a really big thing for us.
Several of our launch team have already set up their recurring gifts through Smart Giving, which is awesome.
Why Cleveland?
We knew for years that we wanted Cleveland. Our heart is to reach as many people as possible—to have as big of an influence as possible. For us, that's big city.
It's kind of a grimy, chip-on-your-shoulder, I-got-something-to-prove kind of city. We like that. We've always appreciated the Cleveland culture.
How did you start engaging with the Cleveland community?
Everything stemmed from relationships. We met people that led to another relationship that led to another relationship. It opened doors for us to tap into the Cleveland network.
We'd host interest socials: Hey, come on out, eat some food, hear about the church!
We met some people who own a custom leather goods shop. It's pretty crazy actually—they're on Lebron James's Cleveland Hustle show for entrepreneurs! They were like, "Yo, you guys can use our studio for whatever." So we'd have our interest socials twice a month at their leather shop in downtown Cleveland.
So yeah, that's how we met and built our team! We have about 75-80 people on the launch team. About 75% of the team are new Cleveland friends, and about 25% are people from our home church.
We try to engage our creative community. We've hosted Creative Nights, where we share vision for what worship and the arts look like at King's Church.
There's a newspaper magazine that goes out every week called Cleveland Scene. That's where you look for the coolest food, concerts, etc. We're doing ads in there. [Check it out here.]
How can we be praying for you?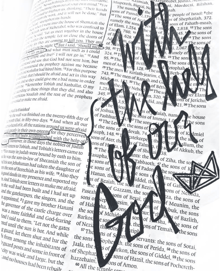 Wisdom. We're in a unique spot in Cleveland—pretty liberal, artsy, faith isn't really on the radar. Prayer for navigating the context we're in.
Our goal is to be a healthy church, not a big church. Even though we have a big dream, we want to pursue it in a healthy way.
You can plan, prepare, strategize, and scheme. All good things. Just don't do it WITHOUT the help and power of God.
Check them out!