Rundown
Church Name: Life Christian Center
Location: Salinas, CA
Church Management Software: Servant Keeper
Church Size: 100
Change in Giving: 14+%
Name: Deanna Manley
Role: Church Admin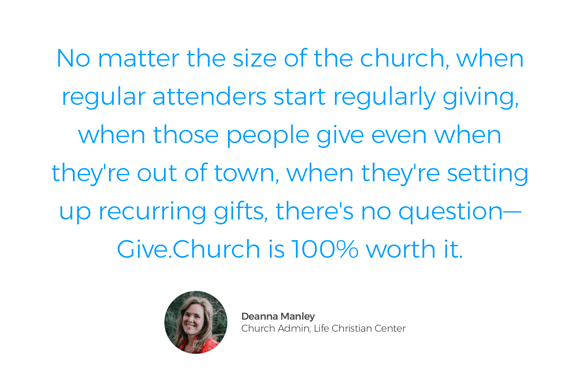 When Deanna Manley's husband took his position as head pastor of Life Christian Center (LCC) in Salinas, CA in 2000, they wondered if they had accidentally stepped into a time machine. While the last pastor left a strong legacy after serving the church for 37 years, much of the existing systems and infrastructure, from overhead projectors to the office computers, were showing their age.
Together, Deanna, her husband, and a dedicated core staff are putting into action the exciting vision God gave Life Christian Center. Deanna, the executive admin for the church, explains it this way, "Our vision is for people to know God. When they come in contact with LCC, my prayer is that they would encounter God and if they know Him some, they would come to know Him even more. Part of that is just making things simple for people. We want a clear, simple approach to ministry where people know the next steps."
Making things simple at Life Christian Center required some changes, like switching to an online, text, and in-app giving platform like Kindrid's. Deanna says Kindrid was the logical option in their pursuit of simplicity. "Even when it comes down to giving, it has to be simple for people. That's where Kindrid comes in —we wanted to take a simpler approach. Over the last 5-6 years, that's what we've done. Dismantling old things, starting with a clean slate, and rebuilding with simplicity."
Rebuilding with Simplicity
14% increase in giving
The impact of that rebuilding process is incredibly powerful. Not only did Life Christian Center see a 14% increase in the total amount given, they also found that offering text giving empowered long-time attendees to start giving for the first time by making it a simple process that can be accessed anywhere by anyone. Now, more than 40% of the church's giving comes through Kindrid.
Reaching people with a church app
Because Kindrid integrates with the church's existing app, LCC broke through geographic barriers as well. A member of their church community lives an hour away and is unable to attend the church in person, but downloaded their app and listens to sermons faithfully.
One day, Deanna opened her inbox to receive an email that read: "The app is so great! I listen to it on my way to work and I read the devotions during the day at my desk so I wanted to support what you guys are doing." Attached was a screenshot with their first gift via text. Later that day, when Deanna logged into the administrative side of Kindrid, she noticed that not only had this person given to Life Christian Center, they set it up as a recurring gift. Before Kindrid integrated with their app, this gift would have gone ungiven.
Digital Giving as a church of 100
As a church with a congregation size around 100, any changes in giving, whether up or down, can have a huge impact on the ministry's budget. Leadership at LCC introduced Kindrid at the end of March 2016, right before the infamous summer slump—those months between June and August when churches typically see a decrease in giving due to travel.
Instead of dreading those months, Kindrid actually helped maintain a strong culture of generosity all summer long:
In the past, people would travel but they wouldn't catch up that month while they were gone. Kindrid created more consistent income flow. No matter the size of the church, when regular attenders start regularly giving, when those people give even when they're out of town, when they're setting up recurring gifts, there's no question—Kindrid is 100% worth it.
Guided by their strong vision to help more and more people in their community know God, Life Christian Center is overcoming barriers to generosity left and right. They serve a wide range of ages in their congregation, but it isn't just the younger generations that embraced text and online giving. Deanna reflected, "We have people of all age ranges giving with Kindrid—from teenagers to people in their 60s. I don't think age necessarily matters. We have a variety of ages in our church and I'm surprised how some of the older ones use it exclusively now."
Life Christian Center came a long way since their days relying on overhead projectors. Today, they've faced difficulties of complexity, distance, and generational gaps by providing easy ways for everyone to get on board with their vision and encounter God where they are.