Do you think there's a difference between a gift and a payment? Have you ever wondered why some churches seem to be stuck in a technological rut? Want to learn why Generis—the people behind building generous churches—thinks complete giving solutions are so important?
Grab some coffee, a spot on the couch, and lean in.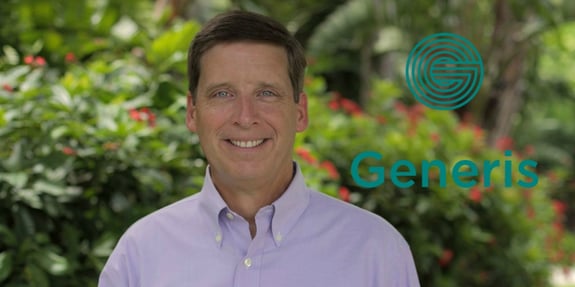 We're excited to share our conversation with Rusty Lewis, a vice president at Generis. Author of a new e-book, Leveraging Technology to Accelerate Giving, Rusty brings a wealth of experience to the table, offering insightful answers to some of the most relevant concerns facing the church and its approach to giving.
---
There are a lot of digital payment providers, why not use one of those? Is there a difference between a gift and payment?
Great question! It was one that was actually raised in my own church as I was working to implement an online giving solution there. "Rusty, do you use your bank's billpay service?" Yes. "Why can't we just encourage people to give through their online billpay?"
Logical question, but I have one huge hang up on that one. You don't want anyone to think of their giving as if they are "paying a bill!" Just the title "online billpay" should turn you away from this as your only solution. This is about giving, not paying bills! Now—if people choose to give through their bank's online billpay system, that's fine. Just don't promote that as your only e-giving option.
Why is it so crucial to offer giving alternatives during the church service? How do mobile giving solutions preserve that moment of worship during the service?
There's nothing more "holy" in writing a check than there is in mobile giving—but there is something sacred about participating and following the Spirit's leading.
Some of it is expectation. "Consumers" expect to able to pay at stores and restaurants quickly and easily. We are becoming accustomed to the options available to us, so we aren't using cash or checks any longer.
People have their smartphones with them, however. They are using them in worship to follow scripture using their Bible app. Why not allow them to give via that same device? I used my iPhone to pay for a drink at McDonald's last week while on vacation. Even the employee thought it was cool—and it was fast and easy. When church leaders don't offer an alternative way to give during the service, they're creating barriers for people to give.
For example, in my e-book I share a story about a guy named John. He's sitting in the worship service, having just listened to a compelling invitation to participate in a new initiative at the church. He's feeling led to give, but his wallet is empty. Unfortunately, there's no alternative way to participate during the service. With this major obstacle in his way, he ends up not giving. This scenario could play out at any church on any weekend.
As for preserving that worship moment around the offering, when you offer giving alternatives during the service itself, you encourage everyone to give. There's nothing more "holy" in writing a check than there is in mobile giving—but there is something sacred about participating and following the Spirit's leading.
And employing those alternative giving methods encourages that. Don't stop offering giving methods that your people prefer—if they need to put something in the offering plate as it is passed—allow them to continue doing that.
This is about offering additional giving options so more people can participate easily.
What do you think about the perception that the church is always last to adopt new technology?
Actually, I'm not sure churches are the last to adopt new technology, as many that I work with live on the cutting edge and are adopting new technologies regularly. But for too many others, they lag behind. Perhaps it's the mindset of "we've always done it this way" or "I give by check in worship, why can't everyone else do the same?" But I suspect for most it's one of two reasons:
The first: a resistance to incur the expenses related to new technologies. There are costs to implement and offer electronic giving, but they are far outweighed by the increases in giving that the church experiences (and the reduction of expenses to have people processing checks), that the overall net costs are negligible in my opinion.
The second: having someone on staff who is continually staying abreast of all the options. Technology is changing so rapidly today it is very difficult to stay on top of the latest and greatest. Heck, I have a hard time keeping up with it! I suspect some of what I've written in the e-book will be out of date within the next three months!
Why was it important for you to address giving technology in your newest resource?
When a church doesn't offer alternative ways to give, they have actually created an obstacle in someone's way of giving to the church.
It started with an episode at home, with my daughter who was 19 at the time. Home from college, she went to church with us and wanted to give during the offering time. Like most today, her life revolves around a debit card. She doesn't carry cash and doesn't have a checkbook. Not able to give in the service, she came home and opened up her laptop to give online. Nope—they weren't offering that option at the time! So she was locked out. Without going to an ATM prior to worship, the church made it very hard for her to give. Crazy!
The same thing is happening today, though on another level entirely. Now it's about going mobile—providing options to give via smartphone. With online banking and smartphone mobile pay apps, we simply aren't carrying cash and checks like we used to. And that means we're not carrying them to church services either. But many churches operate as if we do. When alternative giving methods are not being implemented, a chasm is created and giving is lost.
When a church doesn't offer alternative ways to give, they have actually created an obstacle in someone's way of giving to the church. Giving should be easy. And honestly, people have already gone mobile – with or without you. If pastors would address and improve their e-giving options, they would impact giving for years to come.
In a lot of ways the term "phone" short sells what our devices actually mean to us. Why is it important that giving transitions to the "phone"?
Our phones today aren't just phones, are they? What I refer to in my e-book when I say "smartphone" is any "mobile device" really. And it's crucial we make sure we are providing mobile-friendly giving options. This is especially true for Millennials—the next generation of givers. In fact, 87% of Millennials say their smartphone never leaves their side day or night!

I'll refer back to my daughter here. While when 19 she was using her laptop for most online activity, today it's almost all on her smartphone. The only time the laptop is used is for schoolwork as she pursues her Master's degree.
In 2014, for the first time ever, mobile web page views exceeded web page views on desktop or laptop computers. So it's now crucial that your e-giving experience be mobile friendly. I address this in my e-book, and I even provide a step-by-step self-analysis toward the end of the resource to help churches in this area.
Outside of technology, what opportunities do you see to radically increase generosity in the Church?
Where do I start? There are so many things that can be done to enhance the giving culture in the church. Generosity should be woven throughout everything we do.
If I were going to mention of couple of keys, they would include an ongoing teaching/preaching rhythm on the topic. We need to normalize the conversation about money in the church, boldly tackling the subject rather than avoiding it. And while talking about it, it is critical to connect generosity to the accomplishment of the mission and vision of the ministry.
People want to give to organizations that are making a difference. Unfortunately, many in the church think of their giving going to the "budget"—paying staff, utilities, and the mortgage. Instead, you want your people to see their giving changing lives. Share stories of life change and ministry impact. Help them see how their giving through your church is making a difference in your community and around the world. Done effectively, these two things can have a huge impact on the giving culture in your church.
I have blogged on generosity in the church since 2008, so there is much to read on this question through that resource at www.rustylewis.net. While there, you can subscribe to my blog and receive each article via email as soon as it is published.
You have a great, free e-book available for pastors on giving technology. What's one thing you're most excited about with this resource?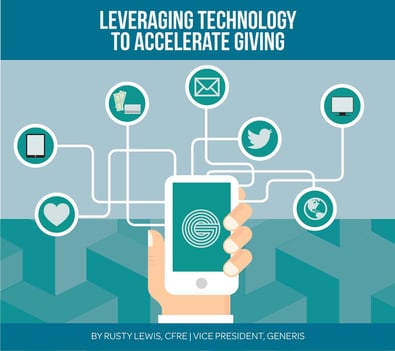 Having a resource pastors and church teams can leverage to not only implement a successful e-giving strategy, but have a simple check system they can use to "grade" their current implementation is what I like most. I'm amazed at the number of churches who have not tested their current system, who don't know what happens after someone clicks the "give online" button, and who don't monitor the communication to the giver after the gift was given. The e-book covers all of this and more, in a simple, step-by-step progression.
I also offer to review the church's current system for suggestions they might make to strengthen their platform. Your readers are encouraged to download the e-book and take advantage of that free offer.
I dearly love partnering with pastors and church leaders across the country to help them accelerate generosity to fulfill their vision and mission. And when I come across a topic that can have as much impact as the technology of giving, I feel compelled to use it to encourage people as much as I can to make a long-term impact for the Kingdom.
If you enjoyed Rusty's answers to these tough questions facing the church, we'd encourage you to check out his free new e-book, Leveraging Technology to Accelerate Giving, or reach out to him directly at rusty@generis.com or @RustyLewis.