Last week, we answered the question why don't we use cash registers in church? The answer boiled down to one simple truth:
Now we want to explore more of the theology behind Smart Giving. Here are five things we believe about giving, about generosity, and how each informs the way we do things here at Kindrid.
1. Generosity is a lifestyle.
Traditionally, giving was done within the physical walls of the Church, but generosity and the Church have never been limited to a building. Smart Giving is a system that matches this belief.
With Smart Giving, you can give during church, at home, at work, and literally anywhere else. Smart Giving frees us to think of our giving and our church as a part of our life, not just our Sunday.
2. The focus is on the gift, not the technology.
Great technology should make you forget you're even using it (CLICK TO TWEET) which is exactly our goal with Smart Giving.
When you give through Smart Giving, you don't have to get out of your seat, you don't have to pull out your wallet, and you don't have to write anything down. You can complete your gift while focusing on what's happening, in that second.
3. The relationship is between the Giver, God, and the Church.
Tens of thousands of people use Kindrid's services to give, however, most never even hear of us. That's the way it should be. Smart Giving is a brand built to respect the fundamental relationship between the giver, God, and the church. Not the giver and God, and the Church, and Kindrid.

4. It's a gift, not a transaction and not a donation.

There is a difference between a gift and a transaction. And whether it's in the way thank you messages work, how a confirmation email is sent, or in the words we used, that difference should be evident throughout the entire giving process. Making a gift should feel different than buying something with PayPal. (CLICK TO TWEET)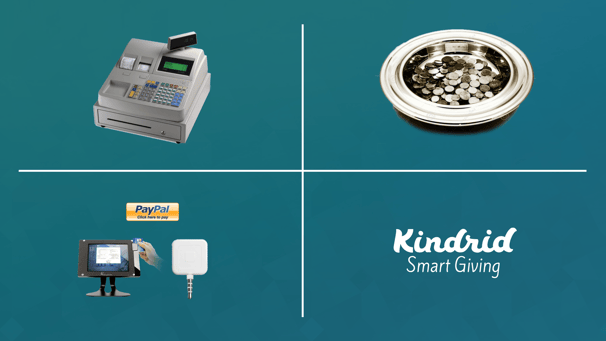 5. Generosity is a mission, not marketing.

It's easy to talk about generosity. It's hard to build an entire company around it. But at Kindrid, we're striving to do precisely this.
Generosity shapes how we price our product, how we've legally structured our company, how we pay ourselves, what features we work on, and so much more.
And, we're not done yet.
We have an unprecedented opportunity in front of us: a chance to create elegant technologies, informed by theology that unleashes generosity.
If you're interested in learning more about Smart Giving, watch our demos below.