Earlier this month, we released an update to the Kindrid dashboard with two goals in mind: functionality and simplicity!
Functionality: Over the years, we sporadically added new features to the Kindrid dashboard, causing some unnecessary confusion for reporting on your church's Smart Giving. With this in mind, we reorganized the menu into four sections with your primary needs in mind:
Giving

Smart Giving

Account Settings

Help
Simplicity: Along with the changes to the menu, we took a hard look at some of the feedback we received from administrators like you and implemented the following changes to help you get the most out of Smart Giving. We made each of these changes with a great deal of intention. Below are a list of notable changes in this update:
The language around giving matters—at every level. That's why you'll now navigate around your dashboard using categories like "givers" instead of "users" and "gifts" instead of "donations or "transactions."

We added a search bar to the "Givers" tab so churches can quickly and simply locate givers' records!

We reorganized everything related to tracking giving prominently to the

"Giving"

section at the top of the menu. Includes: Overview, Gifts, Givers, Deposits, and Designations.

We added the ability to see and export an individual giver's history. Simply search for them and click their name.

We invested in new, custom

Rollout Materials

. Including: Rollout Video, Rollout Slides, and Rollout Cards. We customized the new video with churches' Smart Giving Numbers!

We simplified the dashboard with a full screen design layout. The Kindrid dashboard now loads with a full screen layout, offering admins like you more legibility and easier navigation.

We moved the

Administrators

section to

Account Settings/View Account

to clear up the design and simplify the most common actions required to manage your church's Smart Giving.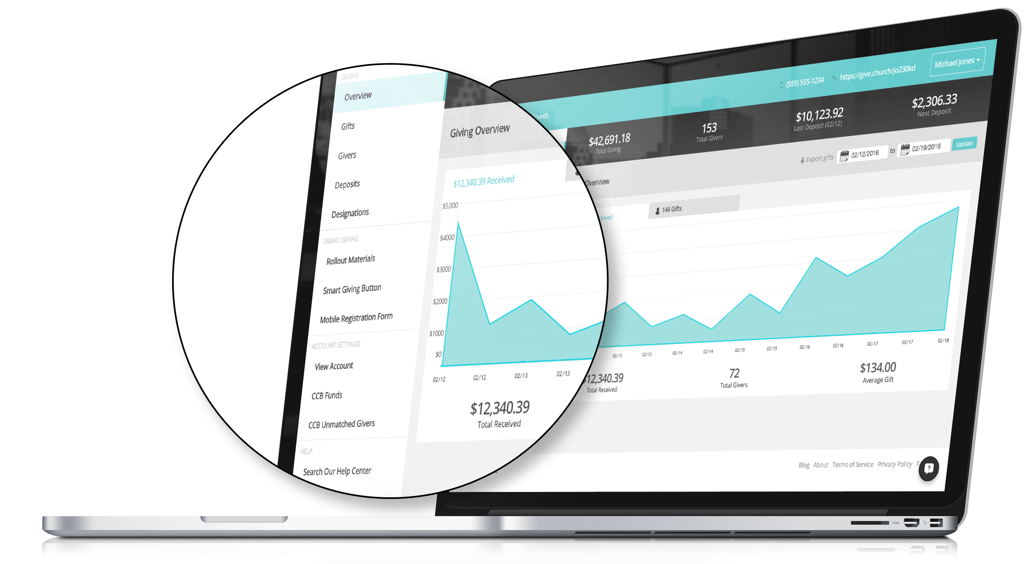 These updates may seem insignificant, but they reflect our heart and our commitment to the belief that giving is a relationship, not a transaction. Our tools will continually support that relationship. Smart Giving is and will always be simple, both for the giver and the admins responsible for reporting.
If you have any questions about the new dashboard, give us a call at (954) 379-2285, or if Smart Giving's new to you, learn more by simply scheduling a demo!