Last week, Apple announced that Apple Pay can now be used to make and receive donations. This is big news for churches and we want to unpack how this is going to grow your church!
Apple Pay will make giving to your church faster and more secure, and that means more people giving. Let's break down how each of those things will happen.
Faster Giving
One barrier to giving is the time it takes to enter personal and card information. With Apple Pay, you're not required to do either. Personal and card information is securely transferred by verifying with Touch ID. This means givers can complete their gifts 60% faster than before!
The images below show what it is like to give $1 through a traditional flow vs. one with Apple Pay.
Standard Giving Flow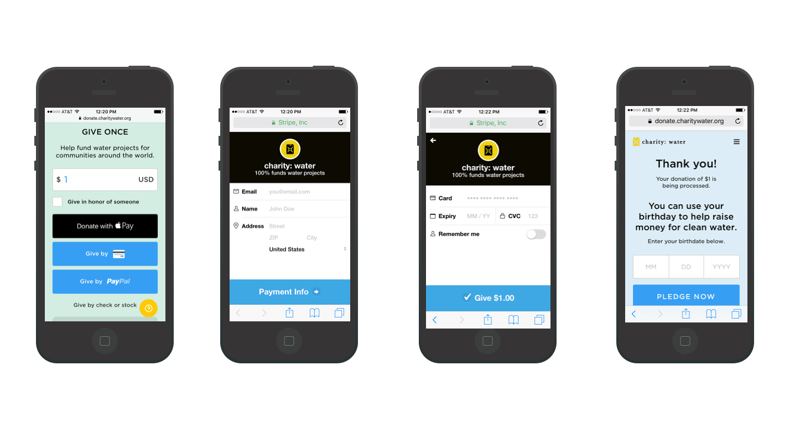 Giving with Apple Pay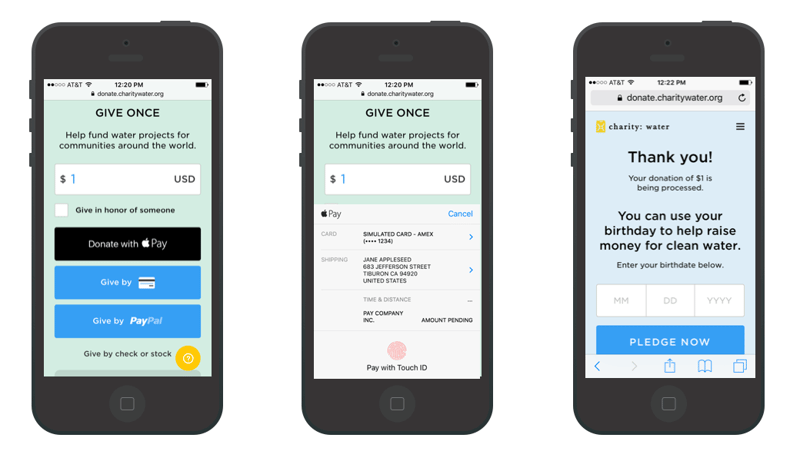 As you can see from the visual, this is revolutionary. No personal information to type out, no card numbers to find—just a simple touch of the thumb to complete a gift to your church.
Even better, if your church is using Smart Giving, this is only a one time process. Just like with a credit and debit card, your givers' Apple Pay information is securly stored and they can give in the future with a single text.
More Secure
Increased simplicity usually means decreased security, but fortunately that's not true with Apple Pay. Apple Pay still complies with the highest level of credit card security (PCI Level 1) and the addition of the thumb print verification actually decreases the risk of fraud.
More People Giving
Ultimately, a faster and more secure process is going to lead to more people supporting the vision of your church. Early statistics suggest that Apple Pay increased completion rates by 2x, meaning your church will see many more first time givers.
At Kindrid, we're always going to be at the forefront of any technology that can help churches increase generosity, and Apple Pay is no exception. We'll be keeping you updated as we work to add this into your giving experience!
FAQs
What will Apple Pay cost my church?
If you're already using Smart Giving, this new functionality will be included free. If you aren't, pricing could be variable but Apple does not charge for the service.
When can my church start using Apple Pay?
We're working adding Apple Pay functionality to the product. If you'd like us to notify you when the feature is ready, fill out the form to the right to join our waiting list!
Who can use Apple Pay?
Currently, 54% of people using Smart Giving are on devices that support Apple Pay. Givers must have an iPhone 6 or 7 with iOS 10. Additionally, it can be used on a laptop made after 2012, updated with the latest version of OS X.
How will Apple Pay impact my accounting?
Luckily, this won't change any of the reporting tools you have. Gifts made using Apple Pay will show up in your church dashboard just like gifts made using ACH or credit and debit.
How many people at my church will use Apple Pay?
Great question! As mentioned above, not everyone can use Apple Pay, but generally speaking, about half the people giving to your church are likely using an Apple Pay capable device. We'll post updated statistics when we've rolled this out!
Want to stay updated on new feature rollouts and how the latest technology will impact your church? Drop your email below to subscribe!