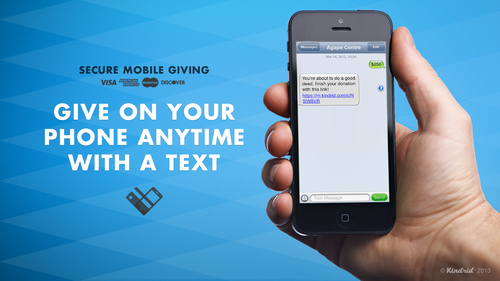 Mobile is quickly becoming the preferred method of giving. A recent study completed by Blackbaud found that 62% of generation Y (Ages 18-32) would give via Mobile Phone and 47% of generation X.
At Kindrid, we're passionate about helping Churches engage the next generation with giving. We believe giving to your Church should be easier than buying a book on Amazon. This desire prompted us to create a simple and fun way for people to give directly from their smartphones at the moment of inspiration.
As we've been working with Churches across the country we've begun to see trends and patterns develop and we want to share a few key insights on how mobile giving will impact your Church.
1. Mobile Giving Will Engage New Donors
Asking young people to donate by check is like asking your Grandparents to donate with a smartphone. It just doesn't make sense. Mobile giving helps translate the experience of generosity into something Generation Y understands and when they understand it they will participate.
One Church we work with found that over 9 weeks 34% of people who gave via Kindrid had never given to the Church before. That's the impact of making giving approachable.
2. Mobile Giving Will Better Engage Existing Donors
What about all of the people who like writing checks or have automatic withdrawals setup? We think that's great! For these people mobile giving offers a way to participate in special offerings or spontaneous giving they didn't plan. This helps make giving feel less like a bill pay and more like a joy.
One Church we work with had a special event that they needed a little extra money for. They posted the need to Facebook and one of their congregants saw the need, took out their phone and donated the whole amount on spot. This wouldn't have been possible a few years ago.
3. Mobile Giving isn't Just Sundays
When you empower your congregation to give they'll do it on more than just Sundays. People like to give during morning Bible study, when they get their paychecks on Friday, or just whenever their heart is moved! Here is a chart showing the number of gifts per day for a sample size of our Church partners.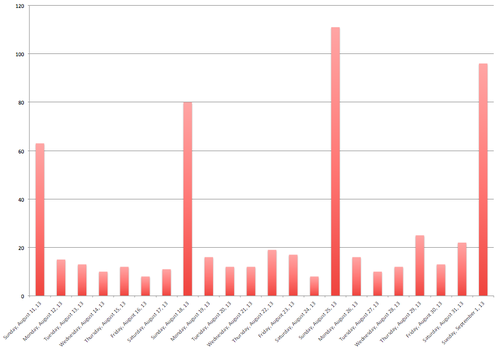 We've found that on average 58% of donations will come in on Sunday but the other 42% will come in throughout the week. Mobile giving opens up creative and fun opportunities to encourage generosity throughout the week.
4. Mobile Giving isn't Just Small Donations
Older mobile giving systems popularized by the Red Cross limited donation amounts to $10 added to your phone bill. The system we've built with Kindrid allows donors to give any amount. We've seen donations as large as $5,000 and as little as $5. Average gift size will vary by Church but $97 is a good estimate on what to expect.
5. Mobile Giving is Here to Stay
One of our Church partners said it best, "Web giving is today but mobile giving is tomorrow so we'll just start there." If your Church doesn't have any online giving now is a great time to leapfrog straight into mobile giving. If your Church already has web giving, keep it! But starting a mobile giving option will open a new channel of giving and, over time, become the preferred method to give.
If you have any questions or want to get mobile giving started at your Church, feel free to reach out to us at sayhello@kindrid.com. Or head over to our pricing page and pick a plan that works for you. It takes about 10 minutes to get everything set up.