Take a minute to think about this: why don't we use cash registers in church?
It sounds like a funny question and it sort of rubs you the wrong way, but what's not right about it, exactly?
Cash registers are a great way of taking and keeping money safe. Why not use them in our places of worship?
We don't because cash registers are a product built to facilitate transactions. We don't because we intuitively and theologically understand:
GIVING IS NOT A TRANSACTION.
Churches pass around offering baskets instead because they're rooted in a holistic understanding of giving: connecting givers and their gifts with God and with need, in real time and in relationship.
Think about what an offering basket tells us about giving: it's simultaneously communal and personal. Passing from one hand to the next, each individual has the chance to interact, the chance to engage.
Offering baskets are built on trust; there isn't a need for a locked drawer, there isn't a need to count change, there isn't a need to write a receipt. The beauty of the offering basket is in its utter simplicity—you just give.
But as we know, offering baskets are ill-suited for giving in our digital world. A growing percentage of people simply don't carry cash or checkbooks. So when it comes time to pass the offering, there's a big part of the church that can't engage.
Although the 21st century puts up many challenges, it also ushers in even greater possibilities.
There's an untapped opportunity to build a digital system of giving that's predicated on an understanding of generosity. The offering basket was limited to the present, physical space, but the digital realm equips us to rethink the old paradigm and unleash generosity in totally new ways.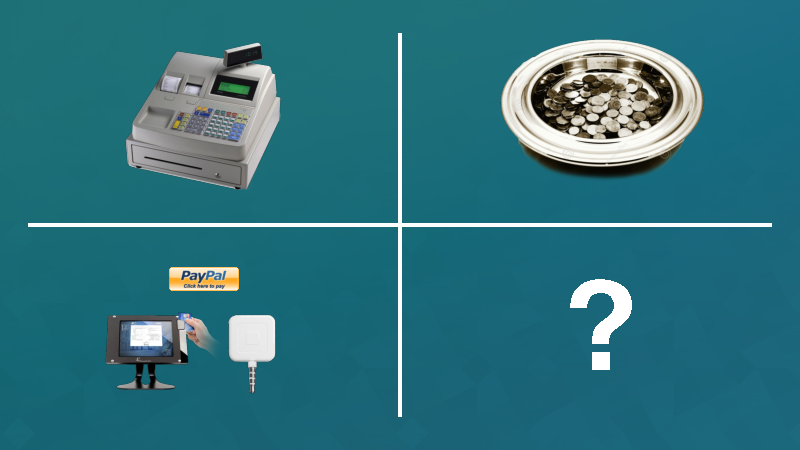 That potential is what drives the development of Smart Giving. Just as cash registers don't belong in churches, we believe the same thing about the digital space. Our digital tools are built with intention, informed by a theology of giving, and empower the giver to give. We want to preserve the sacredness of giving, mainitaining that personal and communal element, rooted in relationship.
If there's one thing we hope you can take away from this, it's that Smart Giving isn't just about sharing technology that works. Though we do that.
It isn't just about making things easier for churches and the admins we partner with, though we strive for that.
It's this.
More than anything, Kindrid sits squarely on a bedrock of generosity. It's what informs our company structure and it's what informs our technology.
In the following weeks, we'll be sharing more of that theology, in detail, and the off shooting philosophies that fuel our work.
We encourage you to subscribe to our blog below if you want access to those resources, as soon as they're published.